Who Runs the Club?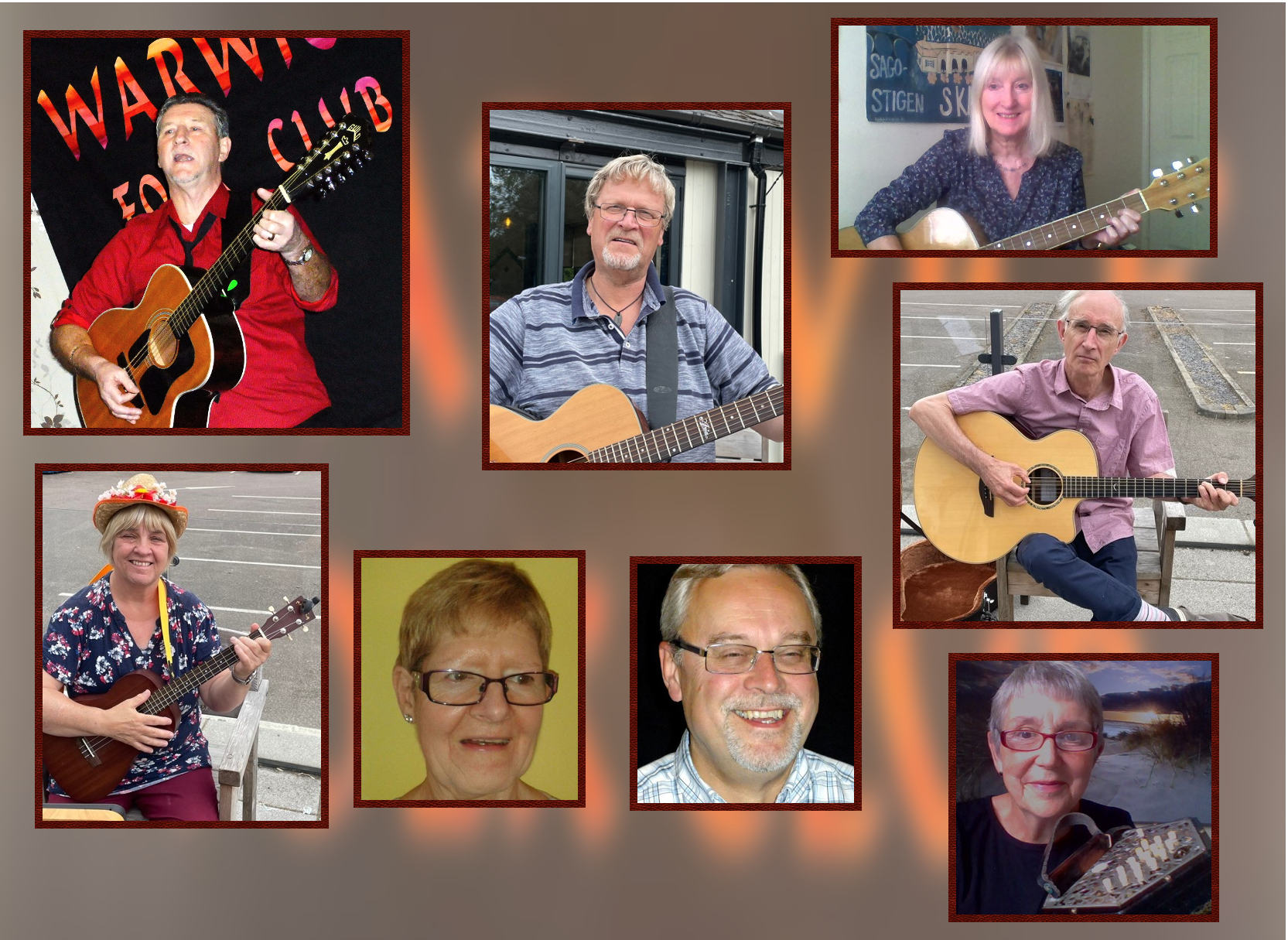 There isn't a committee - just a group of people who all have different things they do to help the club run every other Monday.
(pictures top left to bottom right)

Dave
- MC,
Don
– Guest Booking and MC,
Dora
– Organising and setting up for club nights,
Robin
– Publicity, website and reserve MC,
Maggie
– MC and general help on club nights,
Mandy
– Raffle,
Rob
– Treasurer and Door,
Sally
– Website
What's Warwick Folk Club all about?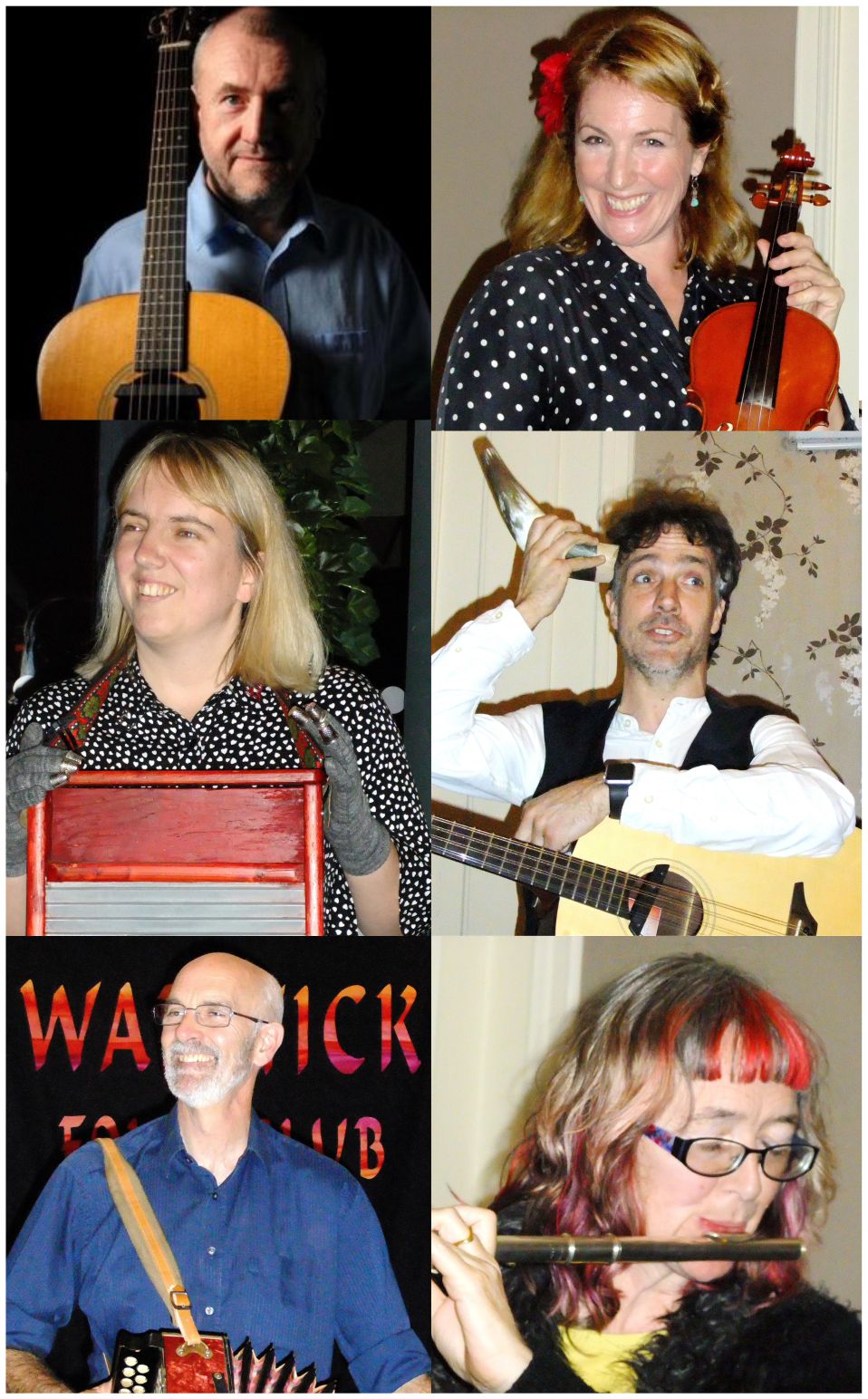 We're not the kind of club you need to be a member of - you can just come along on any Monday night that we're open and enjoy the music, which is wider than the word "folk" suggests - we enjoy all kinds of acoustic music.
We hold
Performers' Nights
when we are hosts to anyone who wants to sing, play or even recite. On these nights performances are from the front of the room (no stage as such) and acts are introduced by an MC. We don't use PA - it's a good room to sing in and we've trained the audience well - they listen! There is the inevitable raffle, of course!
We welcome first timers and old hands alike - everyone will enjoy the same warm, supportive reception and of course, you're very welcome to come and listen. It is recommended that you book via email if you wish to perform but otherwise just turn up.
More about Performer's Nights lower down this page.
On
Guest Nights
we have top artists who play two 40-45 minute or so sets and also local performers who will normally open each half. Booking seats via email for Guest Nights is recommended.
Singaround Sessions
are on an ad-hoc basis but normally once per month (see
Programme
page for details) and quite informal. We sit around the room and take turns to perform until the end of the evening. There is no MC as such but the evenings are stuctured with the host ensuring that everyone gets their turn. There is no raffle and entry is free! It's also a good opportunity to try out new songs or instruments. No need to book. Just turn up. You will certainly get a turn or two.
PLEASE NOTE SINGAROUND SESSIONS ARE FROM 7PM-9PM.
There's easy parking in the Co-op Car Park beside the Pub. Ignore the 1hour time limit. The Tavern owns the Car Park.
The room has adequate chairs and tables. Do come and try it - just check the
Programme
page of the web site. You'll hear high quality, varied music for a small outlay and you can be sure of a friendly welcome.
Performers' Nights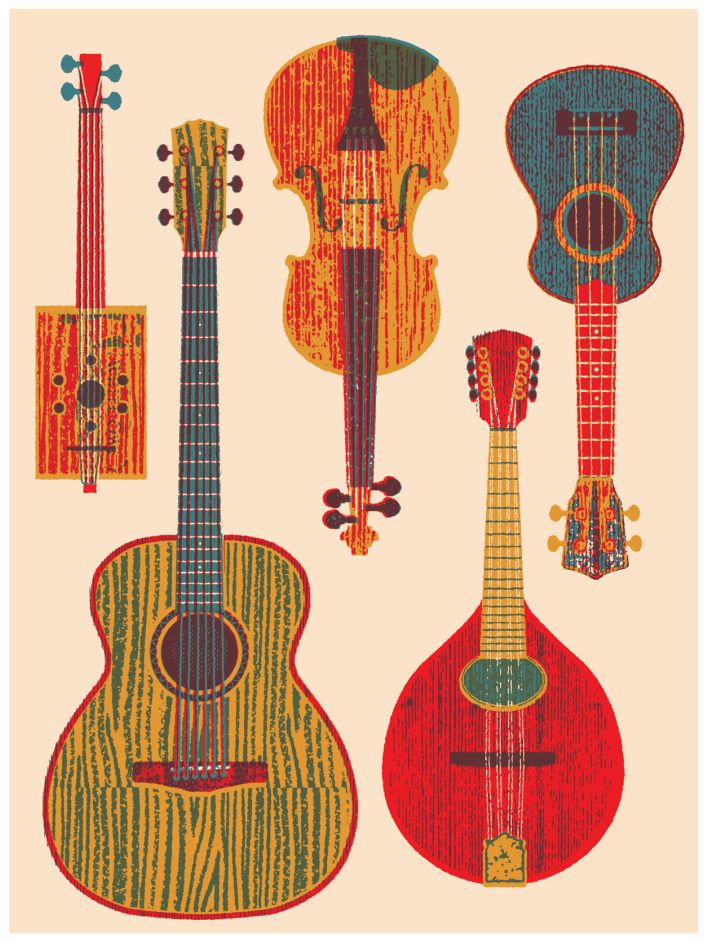 Everyone is welcome to come along and sing and play on a Performers' Night. It's best to send an email first but otherwise it's the first eleven or so people who've emailed for a slot or arrive first.

To ensure we can fit in as many performers as possible, we kindly suggest you keep your performance to 10 minutes (usually 2 songs). The MC will be able to give any further guidance on the night.

The only other thing we ask is that if you ask for a spot to be reserved and find you can't come for any reason,
please let us know. Whatever style of music you perform
you'll be welcome
.


Of course, these nights are not just for performers! They're popular with the audience too
. Either way
it's only £3 and about the cheapest night's entertainment you could find anywhere.
If you're looking for a booking
We would dearly love to be able to offer bookings to singers and groups we like the
sound of and hope that they can hold an audience, interact with them and
perform
in
a live situation but sadly you can't get a feel for this from a CD or video.


We like to book acts who we have seen perform
live
- at our club,
a festival or another venue. We appreciate this makes it difficult to break out of the
local area in which you usually perform.
Many acts who have taken the trouble to come and play live on a Performers' Night
have gone on to get a booking at a later date because people in the audience have
said: "Hey, they're good - you should book them!"

If it fits in with your travelling arrangements, we would love to see - and hear - you
on a Performers' Night (the dates are listed well in advance on the Programme section
of this web site.) Give us as much notice as you can and we will guarantee you a spot.

We hope you understand the need to say this and that you will find a way to come
and see us at Warwick Folk Club before long. You'll get a warm welcome when you do!
WFC Club Room

Numbers, including Performers, Guests and the members of WFC organising team, are limited to 50, so book or arrive early to avoid dissapointment.

Entry to/from the room is via the door to the right of the main bar. You can't miss it. On Performers and Guest Nights there will be a WFC Banner by the door.

The performing area is in front of the dartboard alcove separated off by another WFC Banner used as a backdrop. Performers are welcome to use the alcove to store their instuments, tune up of just relax before the show starts. A sort of "Green Room".

The Woodloes Tavern usually closes on a Monday at 9pm but for WFC Performers' and Guest Nights we've agreed with the staff to let us have the room until 10.30 pm. The staff at the Woodloes Tavern ask that we do conclude by 10.30 pm so we always start and finish on time.

Singaround Sessions not being formal Club Nights will be from 7pm - 9pm and they also start and finish on time.