The WFC Virtual Performers' Night - First Half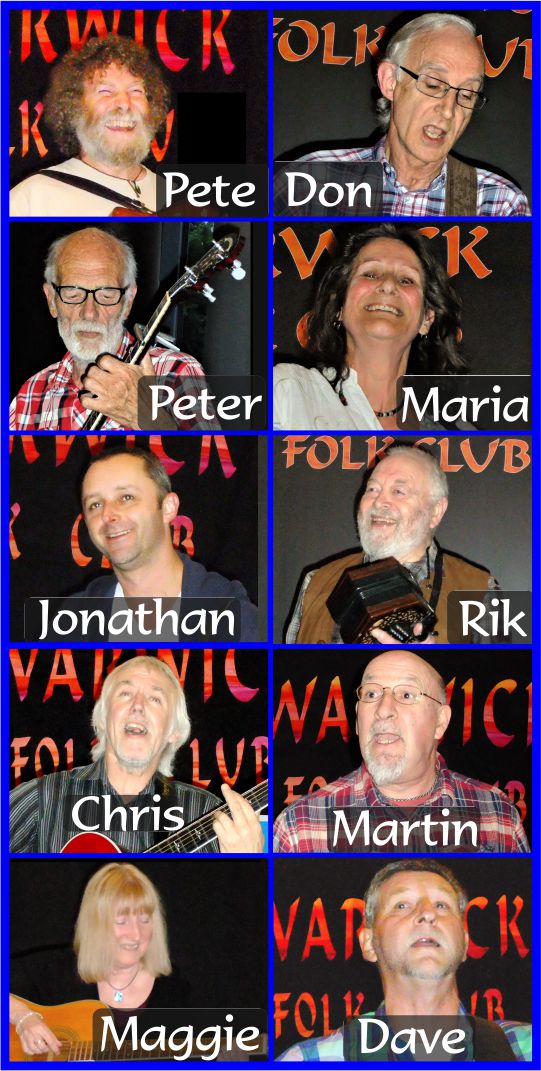 Imagine the club when you get the best of our local performers on one night.
And imagine you've closed your eyes and you sit back and listen ~ and enjoy...
The first half running order is:
Pleasant & Delightful (live) - The company and audience (Traditional)
Pete Grassby - Go And List For A Sailor (Traditional)
Don Arthurson - On The Road (Luke Jackson)
Peter Wimpenny - Travelling People (Ewan MacColl)
Maria Barham (Jonathan Potts, violin) - The Blacksmith (Traditional)
Jonathan Waller - Beeswing (Richard Thompson)
Rik Middleton - Old Maui (Traditional)
Chris Tobin - Sham-A-Ling-Dong-Ding (Jesse Winchester)
Martin Day - Narrow Lock Gates (Bill Caddick)
Maggie Coleman (with Clive Ryder & Bob Brooker) - Water Bound (Dirk Powell)
Dave Fry - One Sky (John Harvison)
You can see this band of troubadours in more detail by clicking on the image
The WFC Virtual Performers' Night - Second Half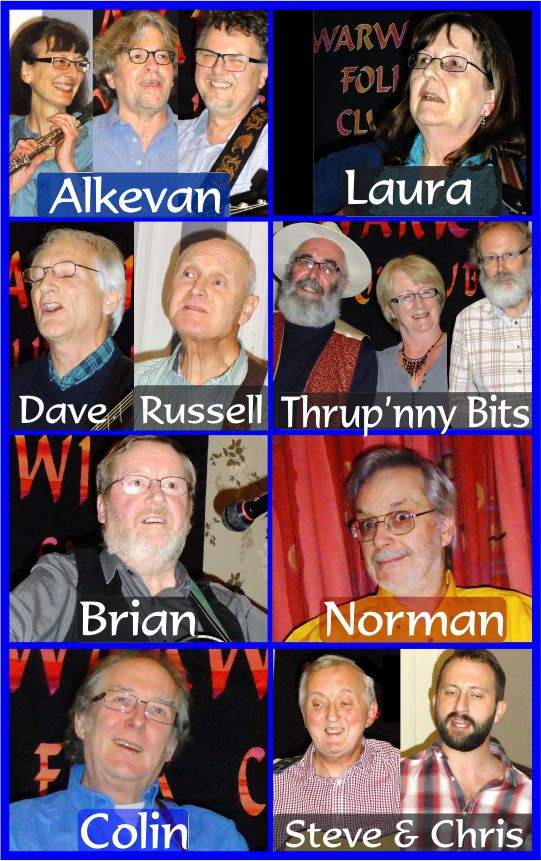 The second half running order is:
Alkevan (Anne, Alan & Kevin) - No Place For The Lonely (Kevin Moffat)
Laura Kisby - Who Knows Where The Time Goes (Sandy Denny)
The Melancholy Brothers (Russell & Dave) - Skimming Stones (Thatcher/Gain)
Thrup'nny Bits (Des, Barbara & Gareth) - The Owl (Traditional)
Brian Phillips - Anji (Davey Graham)
Colin Pitts - The Old Asum Road (Colin Pitts)
Chris, Peter, Maria - Summertime (George Gershwin/DuBose Heyward)
Norman Wheatley - We Just Don't Know (Norman Wheatley)
Steve & Chris Bayes - Three Drunken Maidens (Traditional)
Des Patalong and audience (live) - Rolling Home (John Tams)
(Chris, Maria & Peter are shown in the First Half)
The club is closed until further notice.
If we are able to open after the end of July this is the programme
Possible dates for later in the year
August 3rd, 17th & 31st - Singarounds
Sept 14th - Performers' Night - £2
28th - The Chris Cleverley Trio - £5
October 12th - Performers' Night Top 20 Theme - £2
26th - The Georgia Lewis Trio - £10
Nov 9th - Performers' Night - £2
23rd - Arcelia - £10
Dec 7th - Performers' Night - £2
21st - The

Swan & Dyer Victorian Music Hall Festive Show - £10